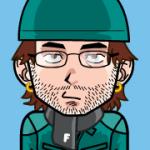 DrMarble 
aka 
Ezekiel
or 
Zeke
 is a contestant on
Chat Survivor 14: Come Islands
,
Chat Survivor 23: Tokelau
, 
Chat Survivor 29: Vietnam
,
Chat Survivor 30: Back to the Basics
,
Chat Survivor 33: Honduras
, and
Chat Survivor 36: Virgin Islands
. 
Ezekiel was going to compete on Chat Survivor 32: Olympus, but he left shortly after it started, and was replaced by SoaringSpirits aka Liam
Ezekiel is currently competing on Survivor: Russia on Koror's Blog ORG, and Survivor: France on DrPanda ORG
Ad blocker interference detected!
Wikia is a free-to-use site that makes money from advertising. We have a modified experience for viewers using ad blockers

Wikia is not accessible if you've made further modifications. Remove the custom ad blocker rule(s) and the page will load as expected.